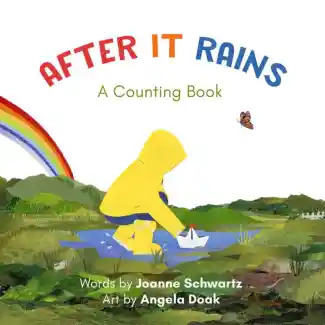 Written by Joanne Schwartz
Illustrated by Isabelle Malenfant
Nimbus Publishing Limited
A bright, collage-style board book about all of the wonderful things you can do after a rainfall, from the author of Town is By the Sea & illustrator of Atlantic Animal ABC.
Once the rain stops, what is there to do but go outside and explore your newly wet and sparkly backyard? In this counting board book, young readers will discover all the things the rain brings out: one puddle, four butterflies, nine wiggly worms. Joanne Schwartz's beautifully subtle text is complemented by Angela Doak's collage-style artwork, made with bits of recycled paper and foil wrappers, giving the illustrations interesting layers of colour and texture. A great introduction to counting, After It Rains is also a fun introduction to all the activities you can do after the rain!
Reviews
After it Rains is an excellent home purchase…Highly Recommended.
-CM Magazine
In After it Rains, author Joanne Schwartz and illustrator Angela Doak have together crafted a charming and exquisite counting book celebrating the wonders to be found in the wake of the rain. …This is ONE counting book that countless numbers of children and parents will savour and enjoy.
–Atlantic Books