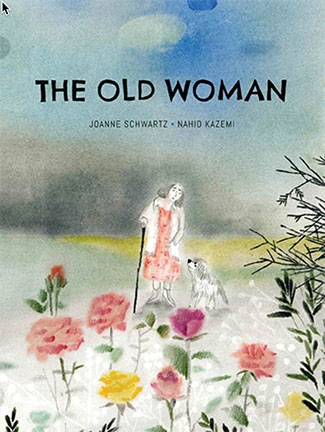 Written by Joanne Schwartz
Illustrated by Nahid Kazemi
Groundwood Books
An old woman shares her home with a scruffy old dog, her best friend and constant companion. One fall day, they go for a walk and the woman throws sticks for the dog. She loves hearing the autumn leaves under her feet and the wind in the trees. She looks up at a crow in the sky and imagines what it might feel like to fly. As the wind comes up and the light begins to fade, she remembers playing outside as a child, never wanting to go in. Suddenly she notices a stunning harvest moon against the darkening sky. The next morning, as she sits outside to watch the sun rise, she looks forward to spending a new day with her friend.
Gentle illustrations accompany this portrayal of an elderly person who lives peaceably with her dog, appreciating what each moment brings.
Reviews
"Misty illustrations accompany a gentle text in a picture book that is overlaid with the feeling of an allegory.
Highly Recommended."
– Cm: Canadian Review of Materials
"This beautifully contemplative portrait is notable for it's depiction of a capable elder, dwelling not amid illness, regret or grief, but in the moment, relishing each day's unique beauty. Calming, serene, respectful."
– Kirkus
"Schwartz's language is descriptive and lyrical (where the air touches her face "feels like the softest hand in the world"), and Kazemi's textured and atmospheric mixed-media illustrations, which include chalk pastels and color pencils, let nature take center stage."
–Seven impossible Things Before Breakfast
The Globe 100: Our Favourite Books of 2020
Quill & Quire's 2020 Books of the Year: Books for Young People