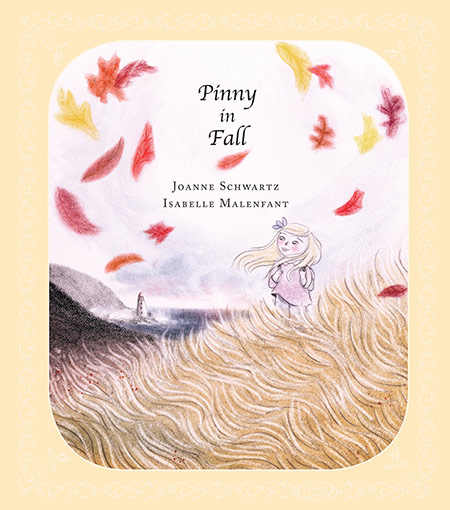 Written by Joanne Schwartz
Illustrated by Isabelle Malenfant
Groundwood Books
On a crisp fall day, Pinny decides to go for a walk. She packs a sweater, her rain hat, a book, a snack and her treasure pouch. Set for adventure, Pinny's day includes a windy game of tag with her friends, an exciting call for help from the lighthouse keeper and a surprising encounter with the falling autumn leaves.
From Joanne Schwartz, author of the acclaimed picture book Town Is by the Sea, illustrated by Sydney Smith, comes a story of friendship, resourcefulness and the beauty of fall, all cast in the gentle light of Isabelle Malenfant's soft pastel palette. The four short chapters in this book, suited for newly independent readers, capture the exhilarating feeling of a perfect fall day.
Reviews
"The sweet, self-assured little girl (Pinny in Summer, 2016) has returned, along with her two stalwart friends, Annie and Lou. Pinny's pleasure in her friends, in being helpful, and in nature's ephemeral treats is contagious."
– Kirkus, starred review
"Schwartz dreamily captures the small wonders of childhood and the air of magic that can accompany season's change."    -Publishers Weekly, starred review
"…Pinny's tales and sidesteps into experiences are written so beautifully by Schwartz, melodic, serene and comforting all at once"  -Fab Book Reviews   
"In this quiet, timeless book, a sequel to Pinny in Summer, Pinny, an independent, sensible child of indeterminate age, revels in the delights of nature with a focus that only children know." Highly Recommended.
– CM: Canadian Review of Materials